One of the largest web hosting companies housing 500,000+ domains and catering to all different types of websites. Dreamhost has an easy to use control panel providing easy navigation to one-click install software, emails, domains and account statistics. There are three types of affordable hosting packages with a 97-day money back guarantee. On top of the low monthly prices, customers get unlimited access to storage, bandwidth, domain hosting, MySQL 5 databases, email accounts and all operating from Debian Linux servers... Read More ►
Unlimited Data Transfer / Bandwidth
Unlimited Storage / Hosted Emails
One-Click Software Installer
Support Available 24/7 via Live Chat
Free Domain WHOIS Privacy
Supports PHP, Perl, Python, CGI & Ruby
Full Custom .htaccess Files
Shell Access via Telnet or SSH
---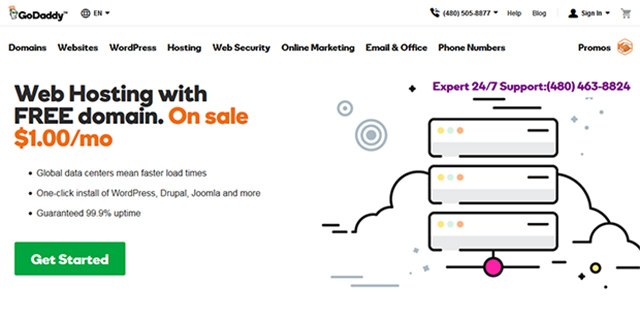 An abundance of goodies provided by the most recognization hosting company globally. GoDaddy is well-known and provides a mix of everything from domain registration, website templates, e-commerce solutions and of course, web hosting. There are different types of hosting packages with countless options offered at a reasonable price, but the storage space and monthly bandwith have a cap. This is a great deal for those with small to medium sized websites that are not likely to outgrow the specified usage... Read More ►
Affordable & Reliable Hosting
99.9% Network Uptime Commitment
24/7 Customer Service via Telephone
Supports Windows, ASP & PHP
Offers Windows and Linux Hosting
A la Carte - Pay For What You Use
One-click Program Installation
Ideal for Small - Medium Sized Sites
---
Midphase is a major player in the hosting industry. Providing domain name registration and web hosting services to many customers through its family of hosting brands (UK2.NET, Midphase, 100TB, ANHosting, Autica, Resell.biz, WingSix, Dotable, WestHost, Virtual Internet and VPS.NET). The group operates its services out of several state of the art, multi-million dollar data centers, and committed to providing a reliability / security... Read More ►
Cloud Hosting and VPS
Domain Name Registration & Mgmt
Linux and Windows Shared Hosting
Reseller Hosting Plans
Content Delivery Network (CDN)
State-of-the-art Datacenters
Offices Across the Globe
Web Design & eCommerce Solutions
---
Simple, yet professional hosting with a cheap price appeals to any beginner eager to get their sites up and running without any issues. Additionally, offering different types of web hosting packages and useful add-ons does not alienate the more experienced webmasters. Ranked as one of the biggest web hosts and currently housing more than 2 million domains, HostGator provides a slick control panel, free site builder and templates, plus $100 Google adwords credit to boost your marketing efforts in hopes of getting higher traffic... Read More ►
Unlimited Disk Space & Bandwidth
Unlimited MySQL Databases
Unlimited Email POP3 Accounts
Easy to Use Control Panel
45 Day Money Back Guarantee
One-Click Installation Scripts
99.9% Guaranteed Uptime
WordPress Hosting, CGI, PHP5, Perl
---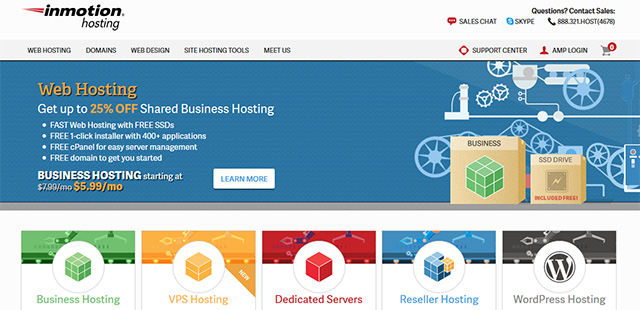 There is an old adage, "You get what you pay for", and it runs true with InMotion Hosting. Select from multiple packages offering different features and reasonable pricing to best fit your needs, such as WordPress hosting, Business Class Hosting, VPS or Dedicated Hosting. For those seeking to start off with a personal or small site, then go for the cheapest plan available, but if you are a more serious webmaster aiming to create a high traffic or large business site, then InMotion Hosting offers an array of powerful hosting plans... Read More ►
Unlimited Disk Space & Bandwidth
Choice of Data Center Location
Premium Website Builder Tool
Free Domain & WHOIS Privacy
Great Business Class Hosting
Free Data Backup / High End Hardware
90-Day Money Back Guarantee
Accredited by Better Bus. Bureau
---
Definitely worth mentioning due to the combination of great phone support, unlimited hosting, good hosting products at an affordable price, HostMonster is home to over 1.7 million websites offering different hosting plans that cater to all types of websites, no matter the size. The uptime is labeled at the industry-standard of 99.9% with server power and performance being up to par on Linux based networks for peace of mind. Definitely one of the fastest growing web hosting companies on the net... Read More ►
Instant Setup and Affordable Pricing
Free Domain Name w/ Hosting Package
Unlimited Disk Space & Bandwidth
Exceptional Support via Phone
Host Unlimited Domains / Emails
CGI, Ruby, Perl, PHP, MySQL
SSH Access (Secure Shell)
$50 Yahoo & Google Adword Credits
---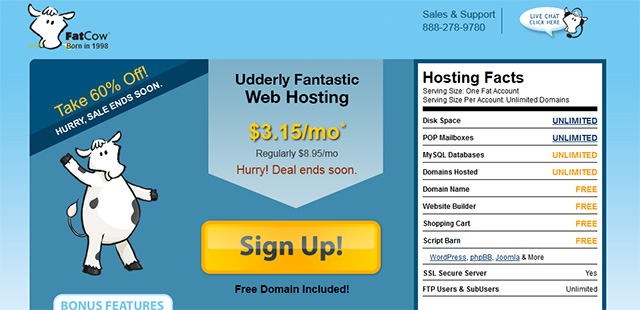 Simplicity goes a long ways with FatCow, as the company offers a straight forward hosting plan to get your personal or small business up and running in no time. Additionally, enjoy a free domain for the first year coupled with one email address and unlimited storage and bandwidth for a low monthly price. Moreover, this is a great option for those seeking environment friendly companies due to FatCow data centers being 100% powered by wind energy and eco-friendly. Another strong point is the simple to use site builder for quick web presence for those entering without any prior knowledge of website designing... Read More ►
Unlimited Disk Space / Bandwidth
Unlimited Domains / Emails Per Account
Unlimited MySQL Databases
Website Builder & Analytic Tools
Yahoo / Google Marketing Credits
Python, CGI, Script, PHP 5 Support
Joomla, WordPress, phpBB Applications
30-Day Money Back Guarantee
---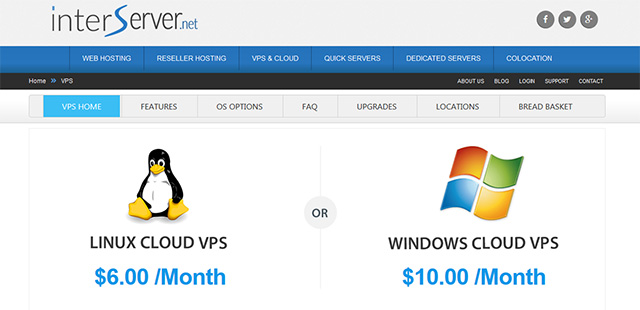 A premier web hosting provider located in New Jersey that is one of the best affordable hosting solutions. InterServer provides a reliable network uptime, easy to use control panel and wide range of website building scripts. There is a support team that provides quality customer service. Overall, InterServer offers a cloud-based web hosting, includes unlimited domains, disk space, transfer rate, databases, emails, subdomains, FTP and more... Read More ►
Quality Network w/ Latest Upgrades
Unlimited Domains & Disk Space
Cloud VPS Hosting Availability
Affordable Web Hosting Packages
MySQL on Solid State Devices
Easy to use Control Panel
Quality Customer Support
30-Day Money Back Guarantee
Coded In Valid XHTML & CSS
Cross-Browser Compatible
Frequent Additions / Upgrades
Unlimited Access To Everything
Beautiful Feature-Rich Themes
---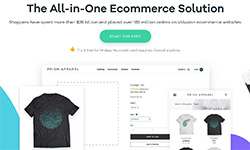 The all-in-one solution featuring online store websites, shopping cart and hosting bringing 3X more business than it's competitor. Get 24x7 support, dedicated account managers and expert resources.
---
A great place to start! Register your domain ASAP! Search, purchase, renew, transfer from a wide variety of domain extensions. Do not wait and get your domain name before it is gone! Don't make the mistake of losing out to another by acting one minute too late...
---
All-in-one program to convert all popular video formats, rip and burn dvds, remove DRM, download YouTube videos, video on demand recorder, device transfer and editing tool. This is a top of the line tool for those interested in media enriched websites or personal use. The only media converter you will ever need!
---
7,000+ Web Templates
Unlimited Downloads
8,000+ True Type Fonts
1,200+ MS PowerPoint Templates
500+ Unique Design Logos
30+ Shopping Cart Themes
600+ Prof. Legal Forms
2,000+ Stock Vector Icons